My Montana State University Journey
I decided to come to Montana State because of the wonderful access to run trails and climb peaks right out the door. I have pursued my bachelors of science in Physical Geography and am graduating in the summer of 2022. I have primarily focused on fostering a deep understanding of cartographic and data visualization.

Not only have I learned alot about myself during my time here, but I have also been able to develop a broad understanding of Earth Sciences, and have had the opportunity to be apart of many incredble field, and geospatial based projects in many fields.
I came to school in 2018, fresh off the Pacific Crest Trail, with a basic understanding of open source map-making using a combinatiaon of tools in QGIS, Blender and Adobe. I have been able to further all these skills, incorporate in depth analysis to my maps, and work on projects in ArcGIS Pro, Mapbox, Story Maps, and have picked up a little bit of python and coding know-how. I've been able to meet some incredible mentors here, (and out on the trails!) who have encouraged me in my education and career.

My main goal with mapping, and part of the reason why I love it so much is I get to connect science, art and emotion, through a medium totally unlike any other. Cartographic possibilites are endless, and the art of data visualization through maps is constantly evolving.
Research Papers & Projects
HAMILTON MT - A PLACE BASED HISTORY
The paper takes a deep dive into the known history of people and land use change in the Bitterroot Valley. Starting with the Glacial Lake Missoula Floods ~ 15,000 years ago, touching on the story of infectious disease in the area and ending with the current state of societal and economic drivers.

Written as a midterm paper for Geographic Thought - Spring 22
Read the Hamilton Paper
THE STATE OF CARTOGRAPHY
A historical look at how the field of Cartography arrived at where it is today. This paper explores where and how map-making has evolved over time, and takes a look at Hamilton, MT. The town is explored through a cartographic perspective, and ties in developments in cartography with those taking place in Hamilton.

Written as a final paper for Geogrpahic Thought - Spring 22
Read the CARTOGRAPHY PAPER
SNOW DEPTH VARIABILITY OF WIND LOADED SLOPES
This snow sicence based research project, combined field and GIS methods to model snow depths at the slope scale. Data points were collected with a GPS unit & inter-polated to create estimated surface maps. The analysis is pertinent to a Masters project being conduted by Nata De Leeuw.

Final Project for Snow Dynamics & Accumulation
Read the snow science paper
THE MOJAVE DESERT AS AN ENERGY LANDSCAPE
This project explores the energy resource landscape that is the Mojave Desert. A large format map showing both renewable and fossil fuel extraction areas and infrrastucture was developed.

Final Project for Geography of Energy Resources - Spring 20
Read the MOJAVE DESERT Paper
PICO DE ORIZABA - Mountain Geography of Mexico's Tallest Peak
A conclusive overview of what make this volcano so special. The paper covers geoglogy, hydrology, topography, ecology & vegetation patterns, human impacts, and climate history / change.

Written as a final paper for Mountain Geography - Fall 21
Read the Pico De Orizaba Paper
AFRICAN HUMID PERIOD HUMAN ENVIRONMENT INTERACTION
A research brief detailing the cause and interaction cycle of humans on the termination of the African Humid Period

Research Brief for Climates of the Past Present & Future - Spring 22
Read the AFRICAN HUMID
PERIOD RESEARCH BRIEF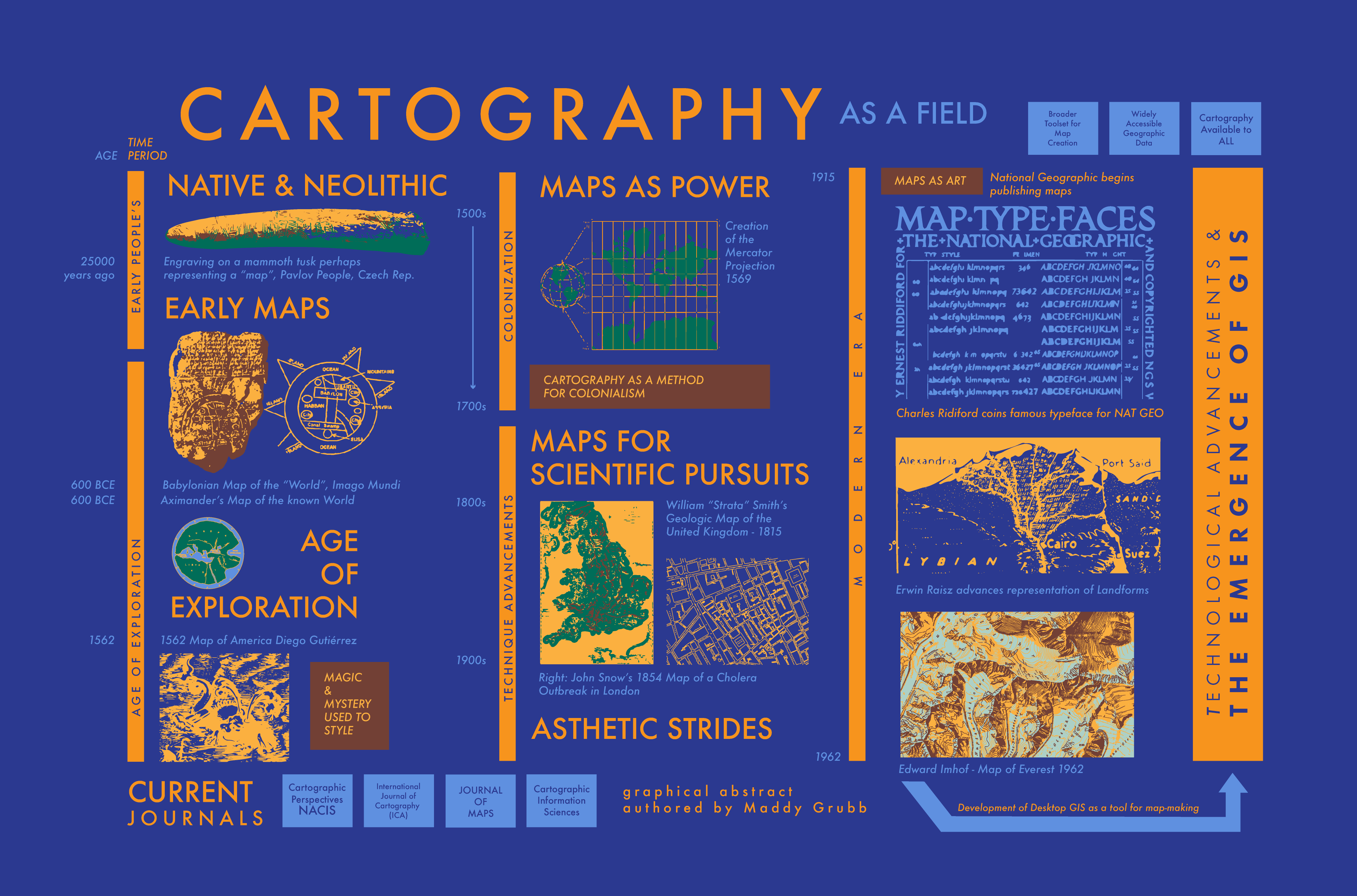 The State of Cartography - a Historical Review - GPHY 425 Final Project Graphical Abstract
Relevant Course Work:
GIS 284 - Intro to GIS Science and Cartography
GIS 357 - GPS Mapping
GIS 384 - Advanced GIS & Spatial Analysis
GIS 429 - Applied Remote Sensing
GIS 484 - Applied GIS & Spatial Analysis (Geographical Statistics)

GPHY 121 - Human Geography
GPHY 141 - Geography of World Regions
GPHY 326 - Geography of Energy Resources
GPHY 411 - Biogeography
GPHY 425 - Geography Thought
GPHY 441 - Mountain Geography

GEO 140 - Planetary Geosciences
GEO 211 - Earth History and Evolution

ERTH 303 - Weather and Climate
ERTH 307 - Principles of Geomorphology
ERTH 450 - Snow Dynamics & Accumulation
ERTH 484 - Climates of the Past, Present, & Future
ENSC 245 - Soil Science

CSCI 127 - Joy and Beauty of Data (Python)
MART 145 - Web Design
STAT 216 - Introduction to Statistics
STAT 217 - Interm Statistical Concepts

Internship working with Dr. Eric Sproles on a Geomorphologic Map (to be submitted to the Journal of Maps) of the Elqui River Headwaters in Coquimbo, Chile